Welcome to

WE BRING YOU AS CLOSE TO LAPLAND`S NATURE AS IT GETS.

EXPERIENCE

AND IT`S STUNNING LANDSCAPE OFF THE BEATEN TRACK STEERING A DOGSLED WITH OUR BELOVED HUSKIES.

DISCOVER LIFE

BY TAKING A SNOWSHOE HIKE AND TRY ICE FISHING ON A FROZEN LAKE.

BUILD AN

AND LEARN HOW TO SAFELY SPEND A NIGHT IN A SNOW-COVERED SCENERY.

BE THERE WHEN

AND THE NORTHERN LIGHTS START DANCING IN THE SKY ABOVE.

GATHERED

WE LIKE TO SHARE OUR KNOWLEDGE ABOUT THE LOCAL CULTURE AND HOW PAST GENERATIONS OF INDIGENOUS PEOPLE SURVIVED IN THE NORTH.
We are a small family owned company based in a remote area about 15 km south of Kiruna town. Life revolves around our 40 Huskies. Typically when you arrive at the yard you see our dogs running free and happy to greet you. Our Dogs are family! They are well taken care of all year around from puppy paws on, as eager athletes, until their well-deserved retirement.
We offer a variation of responsible nature tours from shorter trips to overnight stays.
Being the only tour operator in the tiny village Kalixforsbron, by the river Kalix makes our tours especially unique.
We generally keep a small tour size of 2 to 8 participants.
Join us through Swedish Lapland's pure nature with our dog sleds or snowshoes for a sustainable and tranquil journey in an area with little tourism and snowmobile traffic. As a team we face arctic winters in all its facets. From harsh conditions such as heavy snowfall, wind and temperatures below -30 degrees Celsius to the ideal winter wonderland.
Learn about the culture and history of the area, and find animal tracks in the snow, while looking out for local wildlife. Allow us to teach you survival techniques like how to build an igloo, catch fish deep under the ice and find dry firewood in the snowy forest.
Be enchanted by the magnificence of the North and make lasting memories.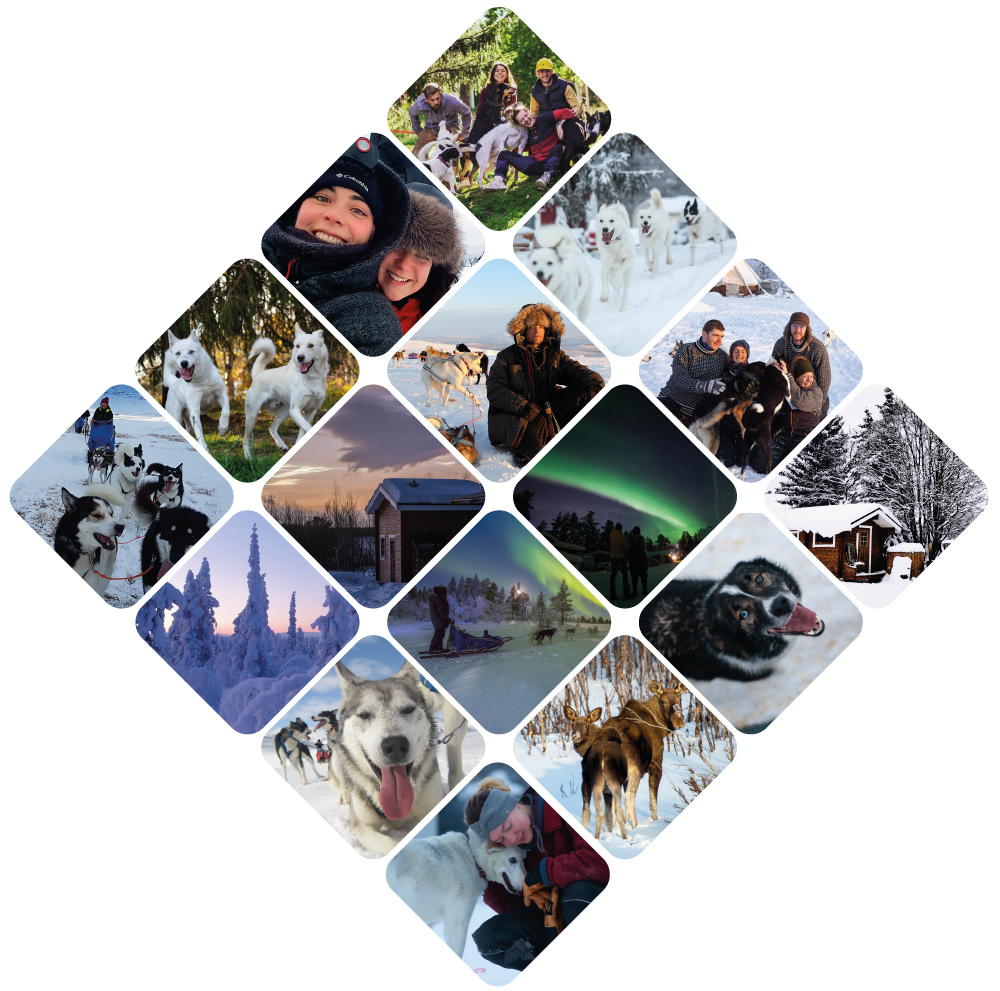 Tony Volk
4. January, 2022.
Was für ein tolles Erlebnis. Danke an Peter und das Team!!
Rabea Osol
4. January, 2022.
I had one of the best days ever with Kiruna Husky! The snowshoe hike and the husky tour were such a great adventure! All the guides are very kind and attentive, the dogs are so sweet and the nature is beautiful... The whole trip was a fantastic experience!!
Chris Skovgard
3. January, 2022.
I had an amazing time on this tour! I managed to get on a northern lights tour for my girlfriend and I between Christmas and New Year's. Unfortunately weather did not cooperate this time, but it's still an experience I'll never forget. For starters, you actually get to drive the dog sled, hard to beat that in my book. Second, Sebastian and his staff are next to none in their service. They are very communicative, always available, kind, and an all around good time. It's easy for me to say that they easily go above and beyond to make their guests have the best experience possible. The dogs were amazing and friendly, and the finish in the teepee was a nice warming touch after the ride. When I find myself back in Kiruna I'm definitely coming back, thank you Sebastian and your team!
Kristin Fong
3. January, 2022.
Kiruna Husky is a must! Not a lot of dog sled companies actually let you drive the sled (you get plenty of instruction and have the option to switch with your partner/passenger half way through the tour), so it was definitely a memorable and unique experience. The staff (the owner Sebastian and his team) were very friendly and easy going, and they answered all our questions about the dogs, the company and their values/practices, and the city of Kiruna in general. Overall, we felt more than accommodated (they include pick up/drop off from your hotel) and welcomed and had an amazing time with Kiruna Husky. You should not leave Kiruna without going on this tour!
Imran Solwa
27. December, 2021.
Was great! Peter really took good care of us on our tours.
Ortzi Lander Landa Rubio
26. December, 2021.
I absolutely love this place for it's dog sled and snowmobile tours. I have already done two dog sledding and one snowmobile tours and I always loved every second of it. The owner (Sebastian) and the whole team are really nice and being with the dogs in this beautiful landscape is a pure joy.
Sabri A
23. December, 2021.
Ich habe schon viel gesehen und bin gut herum gekommen, aber die Zeit bei kiruna husky war überwältigend. Die Hunde laufen alle zeitgleich um einen herum, spielen im Schnee und kommen Abwechselnd hallo sagen. Die Landschaft ist malerisch und die vibes sind total harmonisch. Egal ob man mit Schneeschuhe über einen zugefrorenen See läuft um Eis zu angeln, sich von den Hunden durch die atemberaubende Landschaft ziehen lässt, oder sein eigenes Iglu baut in dem man im angenehm warmen Schlafsack total schall isoliert die Nacht verbringt. Jeder sollte mal da gewesen sein. I've seen a lot and been around a lot, but the time at kiruna husky was overwhelming. The dogs all run around you at the same time, playing in the snow and coming to say hello in turn. The scenery is picturesque and the vibes are totally harmonious. It doesn't matter if you walk with snowshoes over a frozen lake to fish for ice, let the dogs pull you through the breathtaking landscape, or build your own igloo in which you spend the night in a pleasantly warm sleeping bag, totally soundproofed.
Aurelie le devedec
14. December, 2021.
What an amazing experience we had !!! We booked the night tour (1adult and 2 kids) with the hope to see a northern light and we Did 😀😀 Sebastian and his team came to pick us up at our hotel. They provided us with extra clothes. We had time to socialised with the dogs. Lea, our guide for the evening, was fantastic and super friendly. She explained everything in details so that the driver feel confident. Afterwards we got some warm beverages. I really want to do it again but in the morning this time. And I will for sure rebook with this company again. Do do not hesitate.