Welcome to

WE BRING YOU AS CLOSE TO LAPLAND`S NATURE AS IT GETS.

EXPERIENCE

AND IT`S STUNNING LANDSCAPE OFF THE BEATEN TRACK STEERING A DOGSLED WITH OUR BELOVED HUSKIES.

DISCOVER LIFE

BY TAKING A SNOWSHOE HIKE AND TRY ICE FISHING ON A FROZEN LAKE.

BUILD AN

AND LEARN HOW TO SAFELY SPEND A NIGHT IN A SNOW-COVERED SCENERY.

BE THERE WHEN

AND THE NORTHERN LIGHTS START DANCING IN THE SKY ABOVE.

GATHERED

WE LIKE TO SHARE OUR KNOWLEDGE ABOUT THE LOCAL CULTURE AND HOW PAST GENERATIONS OF INDIGENOUS PEOPLE SURVIVED IN THE NORTH.
We are a small family owned company based in a remote area about 15 km south of Kiruna town. Life revolves around our 40 Huskies. Typically when you arrive at the yard you see our dogs running free and happy to greet you. Our Dogs are family! They are well taken care of all year around from puppy paws on, as eager athletes, until their well-deserved retirement.
We offer a variation of responsible nature tours from shorter trips to overnight stays.
Being the only tour operator in the tiny village Kalixforsbron, by the river Kalix makes our tours especially unique.
We generally keep a small tour size of 2 to 8 participants.
Join us through Swedish Lapland's pure nature with our dog sleds or snowshoes for a sustainable and tranquil journey in an area with little tourism and snowmobile traffic. As a team we face arctic winters in all its facets. From harsh conditions such as heavy snowfall, wind and temperatures below -30 degrees Celsius to the ideal winter wonderland.
Learn about the culture and history of the area, and find animal tracks in the snow, while looking out for local wildlife. Allow us to teach you survival techniques like how to build an igloo, catch fish deep under the ice and find dry firewood in the snowy forest.
Be enchanted by the magnificence of the North and make lasting memories.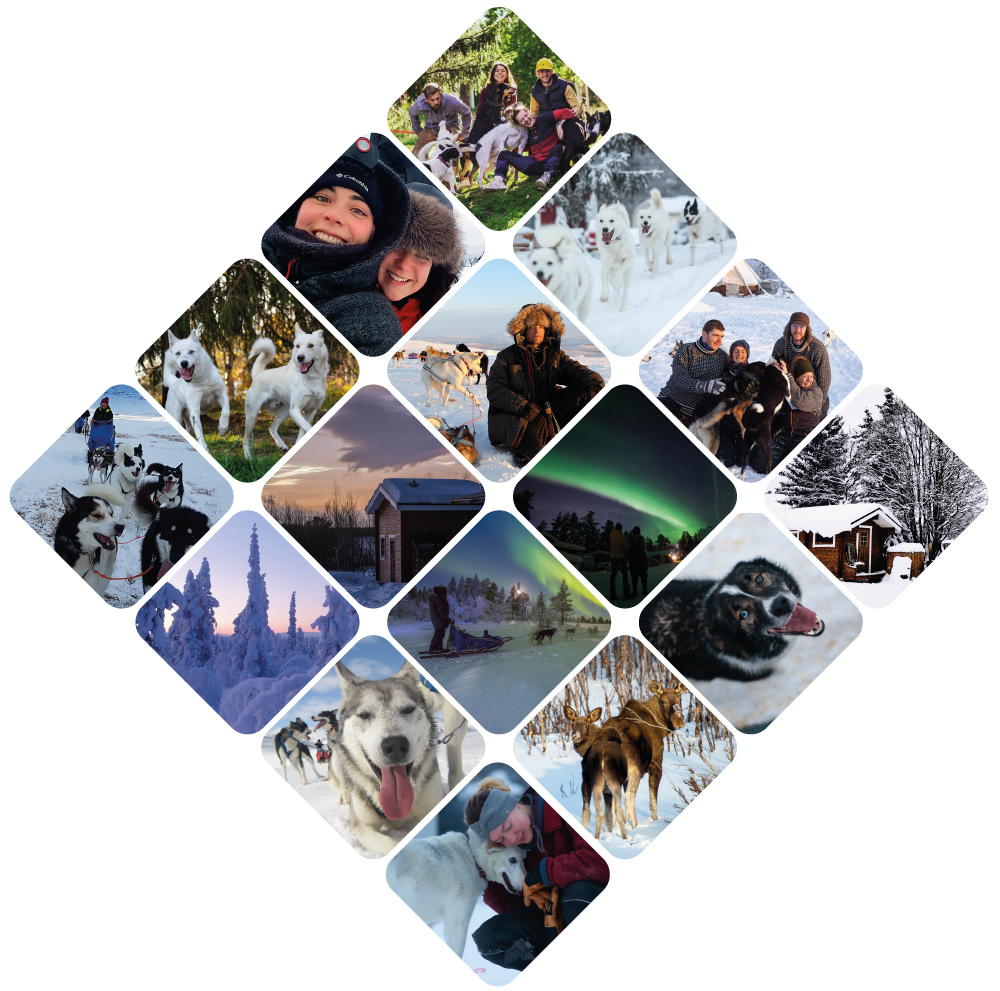 Stefan Endras
24. November, 2023.
es war super. Sehr freundlich, gute Erklärungen, gute Kleidung.
Maya de Roo
23. November, 2023.
Meraviglioso! I cani sono dolcissimi e il paesaggio dove si gira stupendo, il personale gentilissimo. La fika è stata molto gradita dopo il tour a -30°C.
Dorian Viel
19. November, 2023.
For us they are The best ! The best with exceptional animal conditions A pleasant place where The dogs are only outside . They are treated White love and respect. It's very pleasant to live They only want to be pet before the departure. For the responsible dogsleding tour you have to do and live this experience . It's just amazing ! A huge thanks to Martins and Evija for her warm welcome, her kindness and the pleasant conversation in the tent. Not forgetting King Kong , Tim, Raven, Maggie, Panda, Nancy… and all the dogs here. Merci
Lisa Lale
15. November, 2023.
Absolutely amazing experience! The dogs are absolutely healthy, loved and well looked after and get to play with each other all the time and lots of space. If the dog doesn't want to go, it's not forced to. They are checked under their paws and they giving cuddles before, and after we can actually see that their bodies are super healthy. During the ride you can see the dogs absolutely love running. There are dogs of all ages and they are not worked down to the ground . Both run by Sebastian and his partner who has been for some time and have high standard and great practices . Buy the tickets through their website.
Nina Frid
10. November, 2023.
Så trevligt! Mysiga hundar och fantastisk slädtur. Lätt lunch och fika efteråt. Sedan Peter Shamanen som tog oss på en inre resa uppåt. Rekommenderar detta.
Jurgen Rendtel
24. October, 2023.
We enjoyed our sleigh ride in the fresh fallen snow with our guide Rebecca. It started with an introduction to all the friendly and very cuddly dogs and the preparation of the teams of dogs. It was good to see how all people took care of the dogs health and happiness. It was so obvious that the dogs really wanted to go running. Before the ride we got a clear instruction to handle the sleighs which worked out very well. The time went too fast but many impressions will be kept in our minds - the winter colours and the open landscape were beautiful. Five cuddly puppies and their mother got extra attention. We also liked the final stay in the tent with a hot drink prepared on the open fire. The feeling was completed as two dogs were allowed inside and layed down next to us. Special thanks to our guide Rebecca. We would give 10 stars if possible... Manu, Cat und Jürgen
Aefte Cee
9. October, 2023.
Erste Adresse für Urlaub mit Schlittenhunden! Sehr nette, zuvorkommende und immer um das Gastwohl bemühte Inhaber. Ganz tolle Stuga. Sehr gut abgestimmte Schlitten, Hunde und Touren. Immer wieder gerne *****
Juraj Petrovic
11. September, 2023.
We were driving around Kiruna and wanted to visit Husky kennel, we stopped by at Kiruna Husky unannounced and got a very friendly warm welcome. Our 2 years old daughter was so happy that she saw so many huskies and puppies. We are very greatful for the time with the huskies and our daughter had her dream come true. The business is run with very friendly people and huskies are very friendly as well and they can be pet by small kids without any fear 🙂 ... it was perfect, thank you.
Caapian Jarlstam
27. June, 2023.
Good