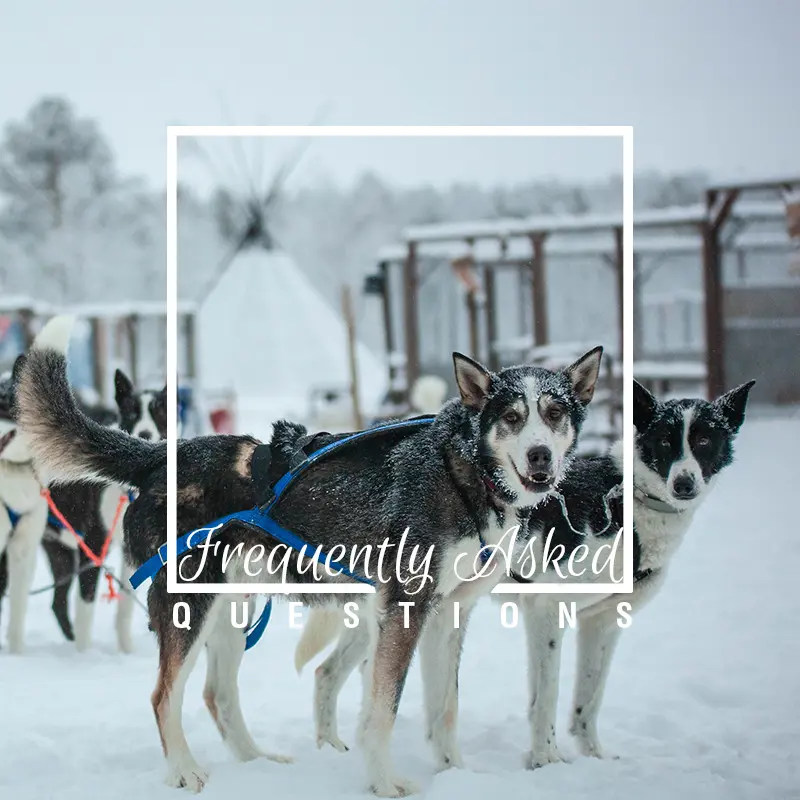 Frequently asked questions
If your question about Kiruna Husky and our nature tours isn't answered here, you are always free to contact us!
We will provide detailed instructions on how to control the sleds and command the dogs. There will always be a minimum of 2 people on each sled, one driver and one passenger. This means you can assist each other.
We provide winter overalls, winter shoes, mittens, trapper hats. We recommend that you bring warm clothing including woollen undergarments to have underneath the overalls.
Glasses are not recommended on the sleds as they may become foggy in the cold, consider contact lenses if possible.
Absolutely! You will take turns driving the sled or being a passenger, You should not take pictures while you are driving as it is very unsafe for you, your passenger, and the dogs. However, as a passenger, you have plenty of opportunities to do so. Do consider how your equipment will function in well below-freezing temperatures, batteries especially can be damaged by the cold and will need to be kept warm. This includes your phone. Keeping it close to your body inside your clothes when not in use is highly recommended.
We have a coffee break after most tours in our Lavvu, (which is a traditional Northern Sami style structure, similar to a tipi) and there is a great opportunity to take pictures with the dogs as well as get to know them better.
We'd love to see your pictures so you can tag us on instagram @kirunahusky
We can pick you up from anywhere within a 5km radius of Kiruna Centrum. Travel outside of this range is possible but may come with an additional charge. Just let us know in the booking inquiry where in Kiruna you want to be picked up. If you want to bring your own vehicle, you can find our location by searching for kiruna husky on google maps.
what if I'm afraid of dogs?
Our Arctic huskies are very friendly and curious, and we always strive for a calm environment, however, dogsledding is a very exciting activity for them and they are very energetic dogs. It is also possible to come and meet the dogs in advance through special requests. We have never had an issue of any dog hurting anyone, however, if you are very afraid of dogs, dog sledding is not recommended as an activity for you.
How do we get in contact?
You can email us at booking@kirunahusky.com
If you want to book by email please include these details: