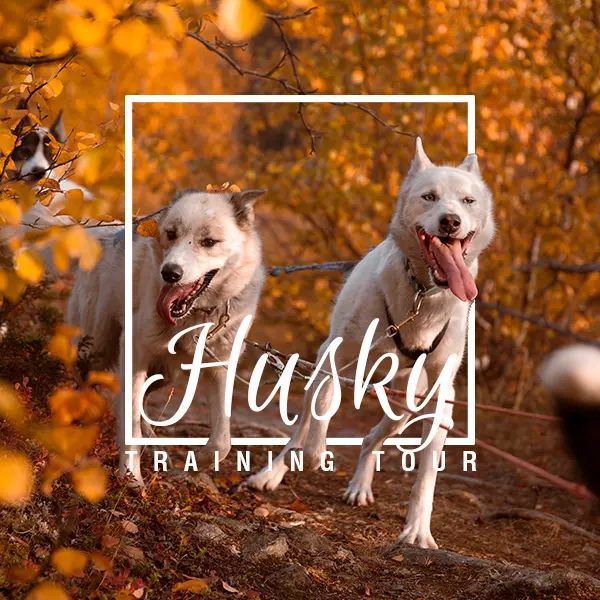 This tour is ideal for you if you are in Kiruna early in the season, for a special hands-on outdoor adventure with our 40 sled dogs! 
learn how we train our dogs
Once the weather is cool enough, we start training the dogs for winter. We can not take the sleds out until snow has come and the lakes are frozen over. So while there may not be much snow, you can still get a genuine arctic experience with our sled dogs.
After picking you up from Kiruna town's central area, we will take you to our home in Kalixforsbron, where you will meet our dogs and get dressed in warm clothing. You will hang out with our 40 huskies and you will learn how to handle and harness them as well as how they are trained. Using specially built carts on wheels we can drive with our athletes in the forest or along the marshlands. 
Afterwards we will offer you to join us in our Nordic tipi tent. Here we will have sandwiches as well as Swedish fika while boiling coffee and tea on fire and chatting about your experience.
The path can be muddy – do not be afraid of dirt.
balaclava/scarf, layers of warm clothes, for spectacle wearers: contact lenses
10 am
-2 pm
Included: Transfer from/to Kiruna Town, Winter gear, Sandwiches & Fika.
PICK UP IS AT 10AM AT THE LOCATION CHOSEN DURING BOOKING, DROP OFF A 2PM AT THE SAME LOCATION.