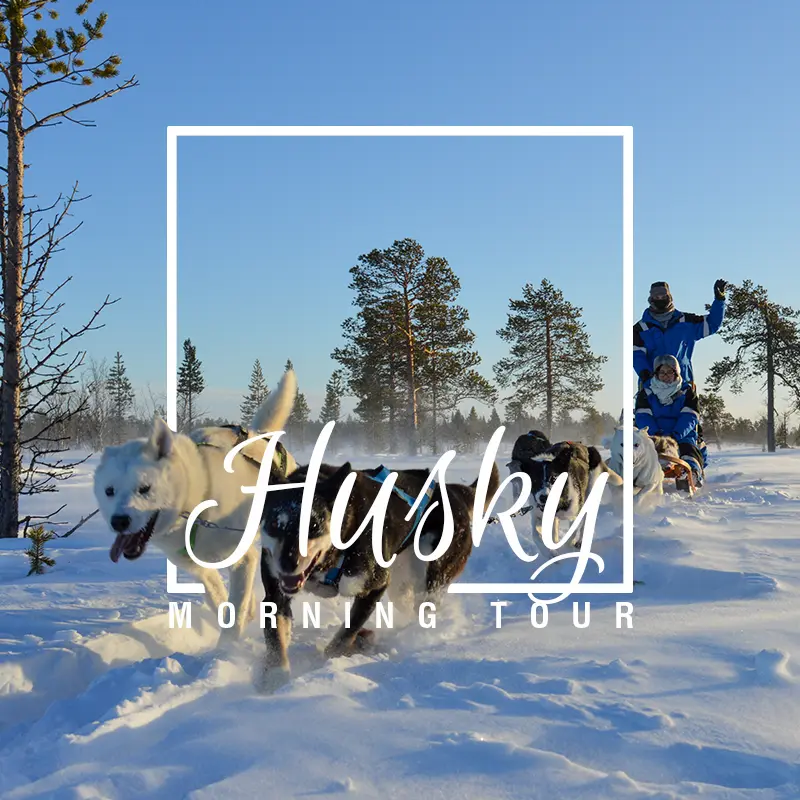 This tour is ideal for you if you want to actively discover the arctic tundra in daylight by one of the oldest ways of transportation. Feel like a musher by steering a dogsled and connecting with our furry friends.
Morning Dog Sled Nature Tour
Discover the arctic nature in daylight by driving a dog sled through the fresh morning snow.
BE A DOG MUSHER FOR A DAY
After picking you up from Kiruna town, we will take you to our home in Kalixforsbron, where you will meet our dogs and get dressed in warm winter clothing and shoes that we provide. You will usually be taught how to handle and harness the dogs. Two participants share one sled and take turns steering and sitting. For your and our huskies safety, a detailed instruction is given by the guide before heading off into nature.
EXPLORE SWEDISH ARCTIC WILDERNESS
We cross frozen lakes, traverse through silent forests and sweeping marshlands while looking out for local wildlife. With some luck, you can spot reindeer, moose, arctic hares, or even "Ripa" the Ptarmigan which is Kiruna's official bird. Make sure to bring a camera as this tour is great for pictures!
Back home we will warm up around an open fire in our Nordic tipi with hot soup and sandwiches as well as traditional Swedish Fika. Afterwards, we will bring you back to your pick up point.
 You will spend most time outside and be close to the dogs. Make sure you dress warmly and feel comfortable around canines.
Balaclava/scarf, and layers of warm clothes, for spectacle wearers, consider contact lenses.
9 am
- 2 PM
Included: Transfer from/to Kiruna Town, winter gear (winter overalls, boots, mittens, hats), Lunch & Fika together over the open fire.
Pick up is at 9AM at the location chosen during booking, drop off a 2PM at the same location.