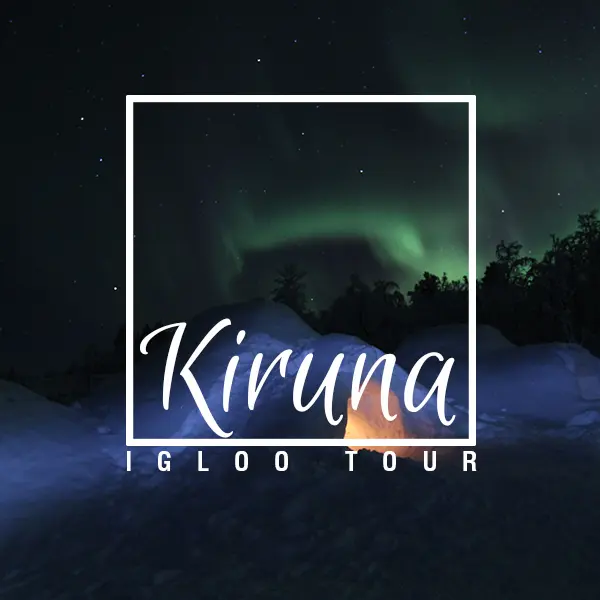 This tour is ideal for you if you are looking for an intense and unique arctic outdoor adventure facing the elements of the North. Learn how to build and survive in an igloo.
Did you ever wonder about how igloos are made? Maybe it's time to find out!

On the Kiruna Igloo Tour we show you how to build your very own igloo. It will be some hard work with moving snow and carving it out. After a few hours, you will be rewarded with a shelter made with your own hands. Be prepared to enjoy probably the most silent night of your life.
Out here in Kalixfors, if the skies are clear and the Solar winds are high, there is a good chance you can see the Northern Lights. After dinner and taking enough pictures you can snuggle in an arctic sleeping bag for a surprisingly cozy winter experience. 
EXPLORE SWEDISH ARCTIC WILDERNESS
Dinner and breakfast are included in the package, and at the time of writing dinner is usually Gräddig suovaspanna which is a traditional creamy reindeer stew using local Suovas. It's quite delicious! (This may change depending on what is available seasonally.) We have various hot drinks and snacks around as well. 
In the morning you will have breakfast and you can hang out with our 40 dogs before we take you back to civilization.
If you are uncomfortable in small spaces (claustrophobia) this tour might not be ideal for you. You cannot stand upright in the igloo. The guide will not sleep in the igloo.
Balaclava/scarf, and layers of warm clothes, for spectacle wearers, consider contact lenses.
2:15 pm
- 10:15 am
Included: Transfer from/to Kiruna Town, Winter gear (winter overalls,socks, boots, mittens, hats, headtorch), outdoor Equipment (sleeping bag, inner liner, mattress), Dinner & Breakfast together over the open fire.
PICK UP IS AT 2:15PM AT THE LOCATION CHOSEN DURING BOOKING, DROP OFF A 10:15AM AT THE SAME LOCATION.